Leadership Conference held in Siegen Germany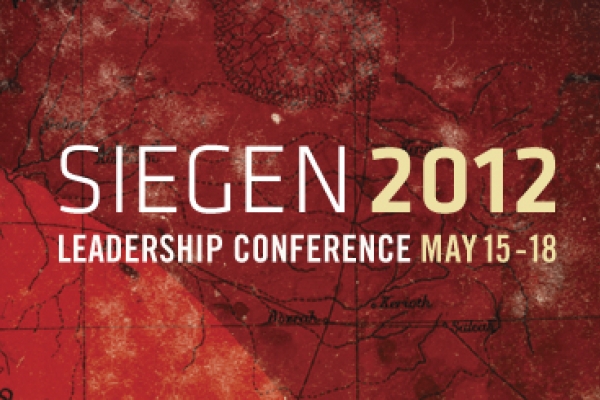 One of the most exciting phrases we find in the Bible is 'Then they shall know that I am the LORD'. It often follows some incredible promise of God or precedes prophetically some powerful work that can only be credited to His hand.
This is what we find at the end of Ezekiel 36 as God improbably promises to bring the broken nation of Israel back into the land. It precedes one of the most incredible passages in the Bible, found in Ezekiel 37, as God asks the prophets, "Can these dry bones live?" God then goes on to give Ezekiel a vision of the nation of Israel being resurrected, a promise which sustained hope over thousands of years of scattering and persecution of His chosen people. Over those centuries, this promise of God must have seemed not only improbable, but impossible. Yet, in this century, we have witnessed the beginning of God's fulfillment of His promise.
In much the same way, God has made incredible—some might say impossible—promises to His Church. But, as the centuries have gone by and the years have taken their toll, many of His people have lost hope and see the fulfillment of God's predictions about the future as true in theory, but having little practical application in their lives.
Joel C. Rosenberg is joined at the Pastors & Leadership Conference in Siegen, Germany by pastors Ray Bentley, Bob Botsford, Nick Long, David Guzik and Lance Ralston as we dig deeply into God's Word. We will focus on Ezekiel 36-39 to see how God has been faithful to His promises in history past and will continue to be faithful in the future. The promises He has made to Israel and to us, His Church, are true and have powerful, practical application in our lives and ministries today.
---
Conference Topics
Future of Europe, Israel, and the Jews – Part 1 (Ezekiel 36-37)
The Abrahamic Covenant and It's Implications
Russia and the Future of Israel (Ezekiel 38-39)
Prophetic Plagues (The 10 plagues of Egypt vs. Modern Times)
How to Respond and How to Reach Out
Why So Many Won't Be Ready (Matthew 24)
Revival in the Temple of God? (Revelation 11)
How to Respond and How to Reach Out
What Next? (Psalm 85:4-7)
Prepare the Way of the Lord (Isaiah 40:3)
---
Guest Speakers
Joel C. Rosenberg - Founder and President of The Joshua Fund
David Guzik - Senior Pastor, Calvary Chapel of Santa Barbara, CA
Ray Bentley - Senior Pastor, Maranatha Chapel of San Diego, CA
Bob Botsford - Senior Pastor, Horizon North County of Rancho Santa Fe, CA
Lance Ralston - Senior Pastor, Calvary Chapel of Oxnard, CA
Nick Long - Senior Pastor, Calvary Chapel of Siegen, Germany
---
On Demand Videos - Watch Now!
Now available are conference videos featuring the guest speakers and Q&A Sessions. Watch Now